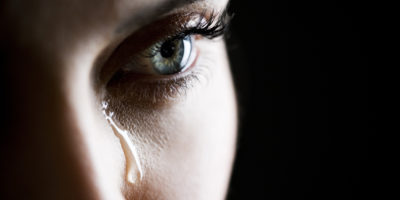 "Rivers of water run down from my eyes, because men  do not keep Your law." (Psalm 119.136)
It is not hard to discern that we live in an age of shaky moral standards. From entertainment to advertising to news stories, we are confronted with images and messages that challenge Biblical morality. The murder of unborn babies is justified in the name of choice. Immigrants are vilified in the name of patriotism. Sexual mores have been cast aside in the name of personal freedom. Greed and oppression are justified in the name of capitalism. How are we as Christians to respond when people around us reject the principles of God's law?
One possible response is to rally the troops so we can loudly and publicly denounce all that we perceive to be ungodly. We can take to the streets with slogans on banners and fists in the air. There is no doubt that this approach yields results. The media love to focus their cameras on the faces of angry Christians and to thrust their microphones before those who are ranting and raving. The louder and loonier you are, the easier it is to get attention. Yet, is this what God would have us do?
The psalmist points us in a different direction with the testimony,  "Rivers of water run down from my eyes, because men do not keep Your law." Why was weeping his response to the law-breaking of others? Why was he not satisfied simply to keep the law himself? The answer is that he was filled with a profound love for God and neighbor, which is what Jesus said the law was all about (Matthew 22.37-40).
If you really love someone, you take offense when others treat him with dishonor. God is the great lawgiver, and His law is an expression of His character of holiness, justice,  righteousness, and love. When men and women ignore that law, they are thumbing their noses at the Lawgiver (whether they realize it or not). The psalmist's love for God causes him to grieve when others don't give God the honor He is due.
If you really love someone, you also want the best for her. God is our Creator, who knows what is best for us and has revealed that in His revelation in Scripture. When our neighbor is defying God's law, she is missing out on the blessings that God has in store for her. The psalmist's love for neighbor causes him to weep when others aren't experiencing the benefits that attend obedience to their Creator.
We can learn some important lessons from the author of Psalm 119. The next time someone who is defying God's law gets your attention, ask yourself a few questions before you respond. Is my primary concern in this situation the honor of God? Will my response be motivated by genuine love for the one with whom I disagree?  I fear that if we were honest, we'd have to say that the answers to these questions would oftentimes be "No." It is all too easy to act out of self-interest that is perceived (often justly) as self-righteousness. We can be consumed with concern for our own honor (not God's) and love for self (not neighbor).
This is not to say that it is never appropriate to take a public stand on moral issues of the day. Love can require this! But how we express ourselves is all-important. We should always and only do so with weeping. That may or may not involve literal tears, but that image should express the disposition of hearts driven by genuine love for God and others. It may not put us in the headlines, but we are far more likely to have a positive moral impact in society if we lead with love and not anger. If we never take time for tears, then the most productive thing we can probably do is remain silent and pray that God would soften our hearts.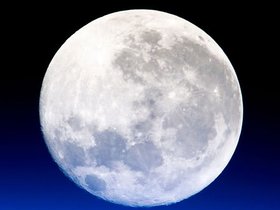 The heavens declare the glory of God;
And the firmament shows His handiwork. (Psalm 19.1; NKJV)
Oh, give thanks to the Lord, for He is good!
For His mercy endures forever.
To Him who made the great lights,
For His mercy endures forever –
The sun to rule by day,
For His mercy endures forever;
The moon and stars to rule by night,
For His mercy endures forever. (Psalm 136.1,7-9; NKJV)
Since the creation of the world His invisible attributes are clearly seen, being understood by the things that are made, even His eternal power and Godhead. (Romans 1.20; NKJV)
Scripture teaches that creation constantly bears witness to its Creator. We know that unbelievers suppress this knowledge in an effort to resist God's claims upon them (Romans 1.18). However, are we believers not often guilty of taking for granted the wonders of creation and failing to appreciate the revelation of God all around us?
I know this is the case for me. That is why I found it remarkable to be caught up short this past weekend beholding the rising moon. I wrote the poem below, which I share as my own testimony and as an encouragement for all of us to be more attentive to the witness of creation.
On Our Evening Walk
Rounding the corner, she stopped
and dropped my hand to point
and to declare:
"Look! The moon!"
I saw it rising between the rooftops –
full, glowing, seemingly-swollen
to three times its normal size.
We gazed in wonder,
caught up in this unexpected glimpse of glory.
Walking on, we called first to a neighbor
and then to our children,
"Look! The moon!"
And, together, we marveled.
(12/2/17)
© 2017, Steven C. Wright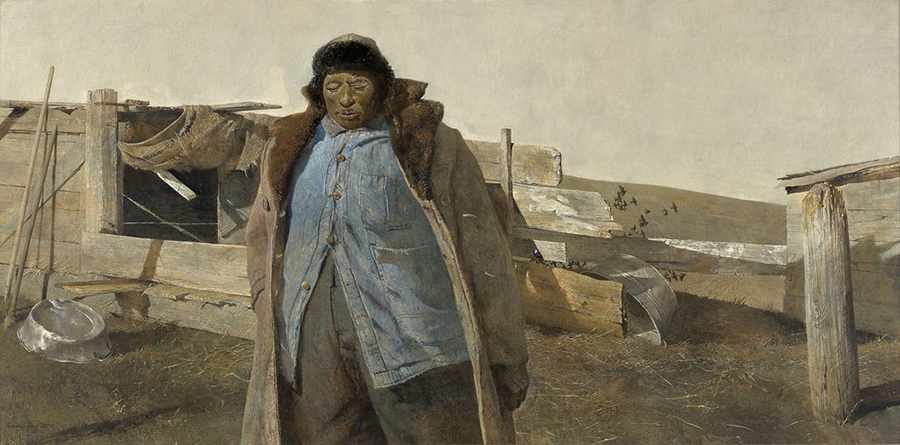 I remember entering through the glass doors and immediately seeing Adam. One couldn't miss his hulking figure dominating the painting — well-lit and obviously meant to be the focal point at the gallery's entrance. The exhibition entitled, Andrew Wyeth: Close Friends, featured works by Wyeth relating to African-American neighbors in his community of Chadds Ford, Pennsylvania. Adam Johnson, the titular subject of this particular painting, mowed grass and did odd jobs for the Wyeth family over many years. Adam was Wyeth's last portrait of the man. His fur cap and heavy overcoat over a denim jacket indicate a winter setting. Adam stands in the foreground, looking downward with eyes almost closed, before one of his work sheds. With hands at his sides, perhaps he is walking away from a job just completed. Bob Dylan once sang that dignity has never been photographed, but I think this painting and others in the exhibit show Wyeth rather successful at painting dignity. Or, more accurately, of painting with dignity folks like Adam Johnson who led a hardscrabble existence. Other Wyeth works feature Adam's house as well as sheds and fences showing signs of his activity — an overturned basket perched on a post, a jacket folded over barbed wire, hay stacked as winter fodder. Adam is thus present in paintings even when his figure is absent. He has touched this landscape, changed it, made it his own.
The exhibition catalog includes a quotation from Adam referencing himself and his painter friend: "Andy — he's got the glory of painting and I got the glory of cuttin' grass, and we ain't gonna get nothing else." One could take that in a negative sense, as if Johnson laments his lot in life. But would he use the word "glory" to express such a sentiment? I think that Adam, who was said to be deeply religious, saw that there really was glory in "cuttin' grass," just as there was glory in painting. There was something good and right and even revelatory about finding one's calling in creation and pursuing it with gusto.
Ruminating on this painting and quotation sends my mind back to another Adam, the first Adam. Like Adam Johnson, he was a worker — placed in the garden of Eden "to tend and keep it" (Gen. 2.15). This Adam lived in a wonderful, unfallen world, but he was not supposed to leave it as it was. Pristine wilderness was never the divine plan for all of creation. There was latent glory waiting to be developed as Adam explored the world, learned to work with its resources, and put his stamp upon it in God-honoring ways. This was his duty and his privilege. As my Old Testament professor, Meredith Kline, once wrote, "Invited to be a fellow laborer with God — that is the dignity of man the worker and the zest and glory of man's labor."
I do not know whether Andrew Wyeth would have thought in such theocentric categories. But as an image-bearer of God with keen artistic vision, he had a richly human understanding of such things that he captured well in his portrayals of Adam Johnson and his world. Many people justly praise the glory of Wyeth's paintings. But if we view them through his eyes,we just might come to understand something of the glory of cutting grass and of any of the myriad other callings not often celebrated in our society. We might also be led to reflect on the glory of our own callings and to consider the next way we might put our stamp upon our world for the honor of our Creator.
Image: Andrew Wyeth (1917-2009), Adam, 1963, tempera on panel, 24 1/2 x 48". Brandywine River Museum of Art, Gift of Anson McC. Beard, Jr., 2002. © 2017 Andrew Wyeth / Artists Rights Society (ARS)