On the Glory of "Cuttin' Grass"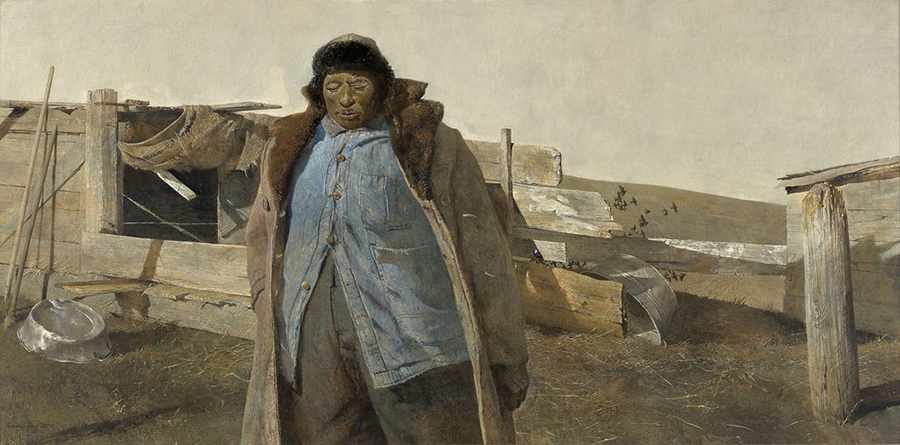 I remember entering through the glass doors and immediately seeing Adam. One couldn't miss his hulking figure dominating the painting — well-lit and obviously meant to be the focal point at the gallery's entrance. The exhibition entitled, Andrew Wyeth: Close Friends, featured works by Wyeth relating to African-American neighbors in his community of Chadds Ford, Pennsylvania. Adam Johnson, the titular subject of this particular painting, mowed grass and did odd jobs for the Wyeth family over many years. Adam was Wyeth's last portrait of the man. His fur cap and heavy overcoat over a denim jacket indicate a winter setting. Adam stands in the foreground, looking downward with eyes almost closed, before one of his work sheds. With hands at his sides, perhaps he is walking away from a job just completed. Bob Dylan once sang that dignity has never been photographed, but I think this painting and others in the exhibit show Wyeth rather successful at painting dignity. Or, more accurately, of painting with dignity folks like Adam Johnson who led a hardscrabble existence. Other Wyeth works feature Adam's house as well as sheds and fences showing signs of his activity — an overturned basket perched on a post, a jacket folded over barbed wire, hay stacked as winter fodder. Adam is thus present in paintings even when his figure is absent. He has touched this landscape, changed it, made it his own.
The exhibition catalog includes a quotation from Adam referencing himself and his painter friend: "Andy — he's got the glory of painting and I got the glory of cuttin' grass, and we ain't gonna get nothing else." One could take that in a negative sense, as if Johnson laments his lot in life. But would he use the word "glory" to express such a sentiment? I think that Adam, who was said to be deeply religious, saw that there really was glory in "cuttin' grass," just as there was glory in painting. There was something good and right and even revelatory about finding one's calling in creation and pursuing it with gusto.
Ruminating on this painting and quotation sends my mind back to another Adam, the first Adam. Like Adam Johnson, he was a worker — placed in the garden of Eden "to tend and keep it" (Gen. 2.15). This Adam lived in a wonderful, unfallen world, but he was not supposed to leave it as it was. Pristine wilderness was never the divine plan for all of creation. There was latent glory waiting to be developed as Adam explored the world, learned to work with its resources, and put his stamp upon it in God-honoring ways. This was his duty and his privilege. As my Old Testament professor, Meredith Kline, once wrote, "Invited to be a fellow laborer with God — that is the dignity of man the worker and the zest and glory of man's labor."
I do not know whether Andrew Wyeth would have thought in such theocentric categories. But as an image-bearer of God with keen artistic vision, he had a richly human understanding of such things that he captured well in his portrayals of Adam Johnson and his world. Many people justly praise the glory of Wyeth's paintings. But if we view them through his eyes,we just might come to understand something of the glory of cutting grass and of any of the myriad other callings not often celebrated in our society. We might also be led to reflect on the glory of our own callings and to consider the next way we might put our stamp upon our world for the honor of our Creator.
Image: Andrew Wyeth (1917-2009), Adam, 1963, tempera on panel, 24 1/2 x 48". Brandywine River Museum of Art, Gift of Anson McC. Beard, Jr., 2002. © 2017 Andrew Wyeth / Artists Rights Society (ARS)